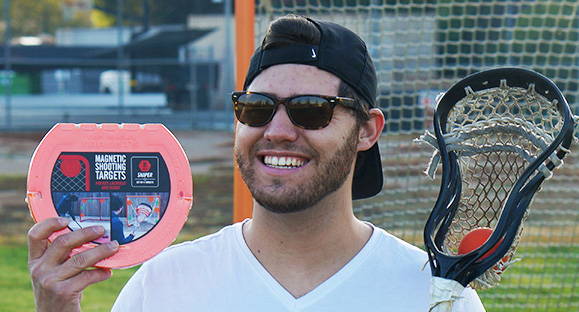 We are excited to welcome you to our team as an Affiliate! We want to make sure you know what to expect from us, and what we expect from you as an Affiliate. After reading and agreeing to the terms below, you can start earning your commission!
*If you are a minor, please complete this page with a parent or guardian.
---
What you can expect from Top Shelf Targets
We give you free Top Shelf Targets products to demonstrate during camps, training, practices, and to use for your photos and videos!
We provide access to approved marketing materials, such as logo's and product descriptions, and give you free custom graphics to help you promote our products to your audience.
We promote your content on our channels (Instagram, Facebook, email campaigns, website, etc) and encourage others to follow you.
We have a knowledgeable and responsive team able to answer any questions and help out.
We provide you with inspiration so you can keep creating fresh, engaging content.
We provide you with a coupon code so your followers can save on purchases, while you earn commissions on those sales.
We provide you with access to the Affiliate Dashboard. Top Shelf Targets will provide you with a username and password so you can see the following pertinent information in one place:

Sales commission percentage which has been mutually agreed upon beforehand.
Affiliate's coupon code, shareable links and associated discount percentage - to be shared with the Affiliate's followers.
A record of all Affiliate-driven sales and commissions.
A record of payouts from Top Shelf Targets to the Affiliate.

We will pay your commission via PayPal twice per year. Affiliate to provide PayPal ID (the email address you use to log into PayPal). When it's time for the first commission payout to be issued, we will contact the Affiliate via email with a request to complete a W-9 form for compliance and tax purposes. We will issue your payout after receiving the completed W-9 form.
---
What we expect from you as an Affiliate
Affiliate will only market Top Shelf Targets' products ("Products") under the Top Shelf Targets brand name. In no event may Affiliate promote the Products under other brand names, including co-branding, double-branding or other combinations.
Affiliate will use the marketing materials provided Top Shelf Targets including company name, product titles, product descriptions and other marketing materials in print and online advertising.
When creating your own marketing materials, Top Shelf Targets expects you to:

promote our products and speak about Top Shelf Targets in a positive light.
refrain from using vulgar, disrespectful, inappropriate, or discriminative language in your videos and posts.
stay safe and refrain from posting photos and videos that contain dangerous or inappropriate usage of our products.
refrain from using confidential or proprietary information that is not owned by you or Top Shelf Targets.

Affiliate shall comply with all applicable laws, rules and regulations, as well as the terms, conditions, guidelines and policies of any social media platform or service that Affiliate uses in connection with the services provided by Affiliate. This includes any legally required material disclosures and compliance with FTC Guidelines.
Affiliate gives Top Shelf Targets full permission to repost, repurpose and feature Affiliate's content on Top Shelf Targets' channels.
Affiliate is retained as an independent contractor of Top Shelf Targets. Affiliate acknowledges and agrees that (i) Affiliate is solely responsible for the manner and form by which Affiliate performs under this Agreement, and (ii) Affiliate is a self-employed individual, who performs similar services to various entities and individuals other than Top Shelf Targets.
Affiliate is responsible for the withholding and payment of all taxes and other assessments arising out of Affiliate's performance of services, and neither Affiliate nor any of Affiliate's employees or independent clients shall be entitled to participate in any employee benefit plans of Top Shelf Targets.
Top Shelf Targets shall not be held liable for damages related to claims made by Affiliate which are not included in the approved Marketing Materials. If Affiliate has obtained employees or agents ("Affiliate Personnel"), Affiliate shall be solely responsible for all costs associated with Affiliate Personnel.
Affiliate will provide Top Shelf Targets with any helpful feedback about our company or products, from you or your network, whether positive or negative.
Either party may terminate this agreement at any time without cause upon thirty days prior written notice to the other party. Top Shelf Targets has the right to cancel the agreement at any time if the terms of the agreement are breached.
Lastly, we expect you to encourage your followers to:

follow and like @topshelftargets on Instagram, Facebook, etc.
visit the Top Shelf Targets website, www.topshelftargets.com.
share the discount code we provide you for your followers.
be creative and have fun!
---
For your records, we will email you a copy of these terms after you click the Submit button below. If you have any questions or concerns regarding these terms, please reply via email or send us a DM on Instagram @topshelftargets.
---

#1 SHOOTING TARGETS ON THE MARKET